Classes »
About us »
Welcome to Professional Martial Arts! - Website currently undergoing changes....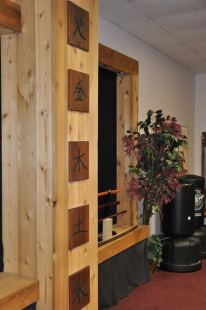 Topeka's best kept Martial Arts secret, we are located at 1900 SW Clay in Topeka, Kansas and provide a full array of instruction and rank in Okinawan Shorinryu Karate, and Aikido. In addition, we also offer classes in Fitness Kickboxing. Please have a look at our programs, and contact us for more information. Feel free to give us a call at 785-233-5384 and ask about our programs. We look forward to working with you!
Professional Martial Arts (PMA) is committed to the art of self-defense and self-improvement. The Instructors at PMA have been teaching children and adults for many years. We are professionals at helping you reach your goals! Whether it be PHYSICAL FITNESS, WEIGHT LOSS, GAIN FLEXIBILITY, FOCUS, CONCENTRATION, SELF-CONTROL or SELF-DEFENSE, come join our family unit. We will help hold you accountable in a positive reinforcement environment. Our proven methods have worked for more than 20 years. So get more Bang For Your Buck and propel your fitness goals while learning valuable life-saving techniques at the same time. Please stop in for a visit, email us, or give us a call for more information.

Copyright © 2006 pmaks.com. All rights reserved.